Tips from a Top Madison Digital Marketing Agency
In the digital marketing world, there isn't much else that is as coveted as the email address. An email address gives you the ability to build relationships with prospective customers and gradually move them through your sales funnel.  
When prospective customers land on your website or interact with one of your social media posts for the first time, chances are they won't do much more than browse. This is normal, especially for B2B and businesses with a higher barrier to entry. While most post-click landing pages should ask for a visitor's email address, the real question is how will you convince them to give it to you? Enter the lead magnet. Today, we're sharing a high-level guide on lead magnets, their importance in lead generation, and some examples our Madison digital marketing agency recommends so you can start growing your email list. Ready? Let's go! 
What is a Lead Magnet?
Put simply, a lead magnet is something of value given for free in exchange for information, such as an email address. Notice the keyword here is value. A simple "subscribe to our newsletter" doesn't cut it anymore as a list-building tactic because visitors must see a higher value before handing over their information. After all, who wants an inbox full of irrelevant or spammy emails? 
We all know it's easier to convert a warm lead who is familiar with and has built a level of trust with your company than converting a cold lead, or someone who doesn't yet know you. So, to maximize your list of warm leads, your lead magnet, whether it's a short download or an in-depth case study, should be easy to digest, be relevant to your audience, and have a perceived value, meaning it offers solutions or expertise that can't be found elsewhere.   
One last tip to keep in mind before we dive into a few examples is to make sure the content of your lead magnet is targeted to leads at the appropriate stage of your sales funnel. For example, sending a product demo or free trial to someone at the first stage, often the awareness stage, in your funnel may lead to low conversion rates because they don't know enough about your company to fully understand or appreciate the demo or trial. Instead, opt for an infographic or how-to guide that can help introduce your company and build trust.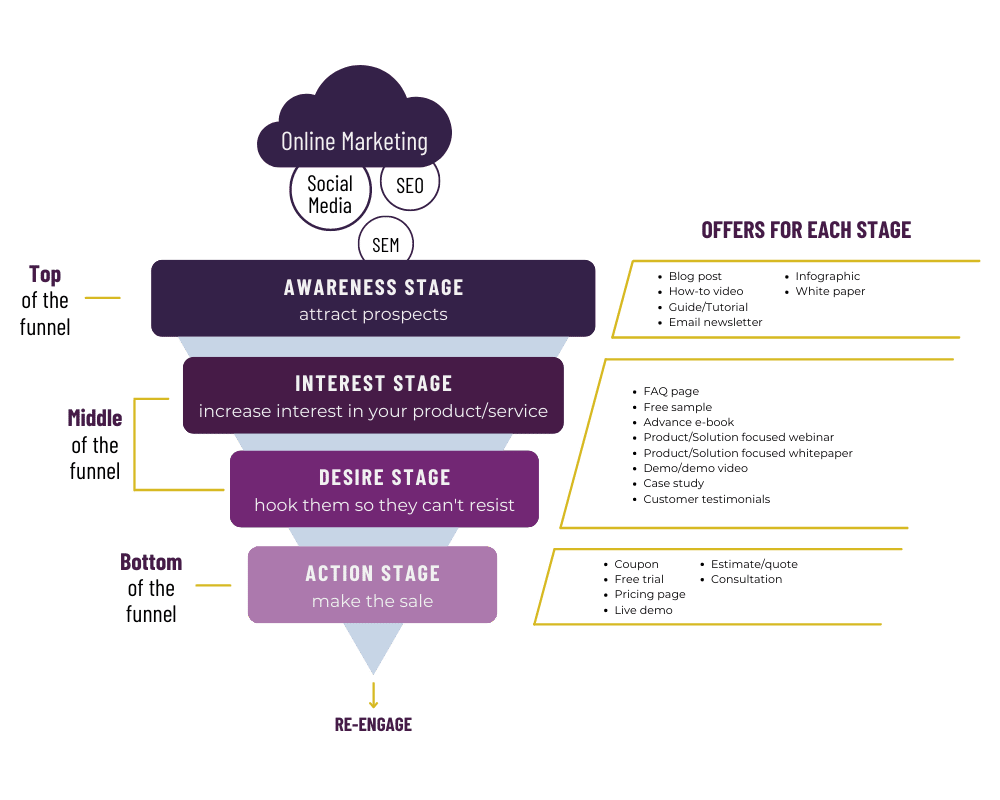 Lead Magnet Examples
Consider these high-value lead magnet ideas to grow your email list for your next lead generation campaign. Keep your audience in mind and consider their needs and tastes while developing content.   
How-to guides or checklists are simple lead magnets that can pack a big punch. When developing your magnet, remember to think of content your audience wouldn't be able to easily find on their own to help build that perceived value. This type of lead magnet is great for leads in the 'Awareness' stage because they may already be researching or searching for the content you can provide.   
Case studies are a great way to showcase your company's abilities and communicate the value of your product or service in action. When developing a case study, be sure to tailor the content to your audience so that it easily resonates, and the lead can picture themselves receiving similar results with your company. 
Case studies work well for leads in the 'Interest' or 'Desire' stage where their interest in your company is increasing and you can use the case study as a hook to reel them in. 
Webinars allow you to demonstrate your thought leadership and authority in your industry and allow for prospective leads to interact with you directly if you choose to host a Q&A. Webinars also allow you to create an additional lead magnet by recording the presentation and gating the recording and presentation deck. Like the case study, this type of lead magnet is great for leads in the 'Interest' or 'Desire' stage, where they have already shown some interest in your company and wish to learn more. 
Depending on your product or service, consider offering a free consultation or free trial for leads to learn more about your business and how you can help them achieve their goals. As we mentioned earlier, this lead magnet works well for leads in the 'Action' stage, where they have already gone through your sales funnel and are gearing up to purchase.  
If you choose to offer a free trial, consider combining the trial with email outreach to support the user and build trust throughout the trial period to help close the sale at the end.  
 In addition to creating your lead magnets, be sure to develop a plan for how you will nurture the new leads after they sign up, whether they are in the awareness or post-purchase stage. Not sure where to start or how lead magnets can fit in with your overall business strategy? Reach out to schedule a free consultation here. 
Have a question or want to share something with us? Drop a comment below!