Portfolio
UnityPoint Health – Meriter Foundation
Background
Meet UnityPoint Health – Meriter Foundation
UnityPoint Health – Meriter Foundation is the charitable arm of UnityPoint Health – Meriter, an integrated community health system providing a full range of coordinated care to patients and families in Madison, Dane County, and the surrounding communities across south-central Wisconsin.
Each day, the team at Meriter Foundation works toward meeting the needs in our region that are often overlooked: caring for the mental health of children, adolescents, and adults in crisis; helping our neighbors facing homelessness and housing insecurity; providing compassionate treatment for adults suffering the effects of substance abuse and addiction; offering medical treatment and emotional care for survivors of sexual assault; giving every infant born and cared for at UnityPoint Health – Meriter the strongest start possible; and much more.
The Partnership
Brand Strategy and Implementation
Soul Seed Strategy began partnering with Meriter Foundation in late 2020 as they sought to establish a stronger brand identity. Over several months, our team worked with Meriter Foundation staff, board members, and Meriter's Marketing team to help Meriter Foundation identify and establish its unique identity and strategy. Key initiatives included defining their mission and vision, capturing stories from donors and beneficiaries of the Foundation's work, and developing a one-sheet to help board members act as ambassadors for Meriter Foundation.
"Working with the Soul Seed Strategy team has been such an inspiring and empowering process. They helped us identify and establish our vision in a way where all voices were heard. And the process was fun! Through virtual meetings, they engaged all of our participants—the process was one of the best I've seen facilitated. We've already put the materials and outcomes of the process to use. It's helped activate our board members as they feel they have the materials and support necessary to share the impact of our work. I can't say enough how grateful we are for what this work has made possible for Meriter Foundation!"
Rebecca Dopart, MBA
President of UnityPoint Health – Meriter Foundation
Over the past year, Meriter Foundation's growing team has reported that the brand strategy helped onboard new team members, ensuring everyone is aligned to the same vision and mission.
The brand strategy efforts have poised Meriter Foundation to expand their efforts in building a healthy community for everyone. Brand Strategy and Marketing Consultation
N

Development of a donor survey to investigate donor demographics, engagement with the organization, and what elements they value most

N

Competitor and SWOT analysis, and donor research interviews

N

Development of donor personas, including key demographic information, decision-making criteria, and pain points

N

Identified unique selling point (USP) brand messaging for each persona and general brand messaging as a whole

N

Development of Mission, Vision, and Values statements and long-term business goal(s)

N

Brand Playbook development, compiling all graphic and messaging assets, including logos, brand colors, fonts, stock photography samples, donor personas, and key brand messaging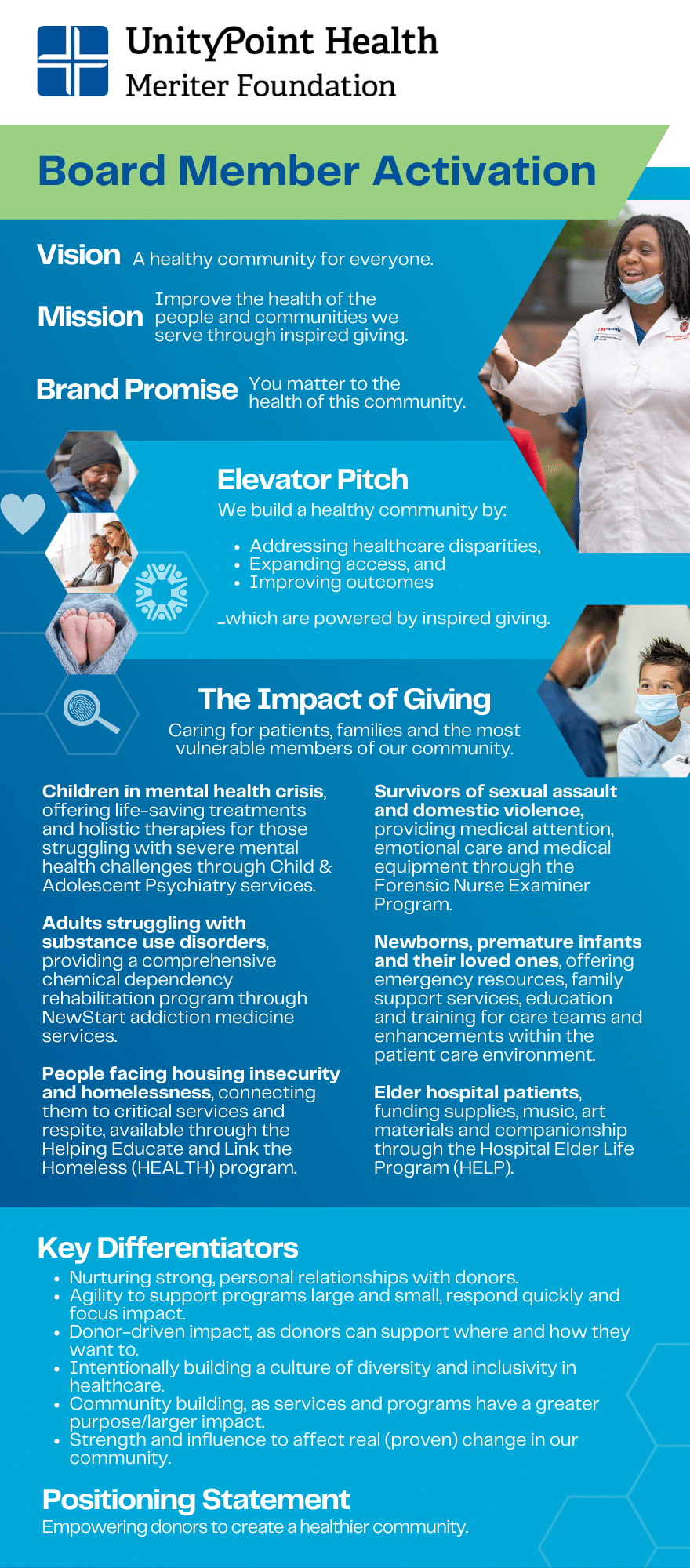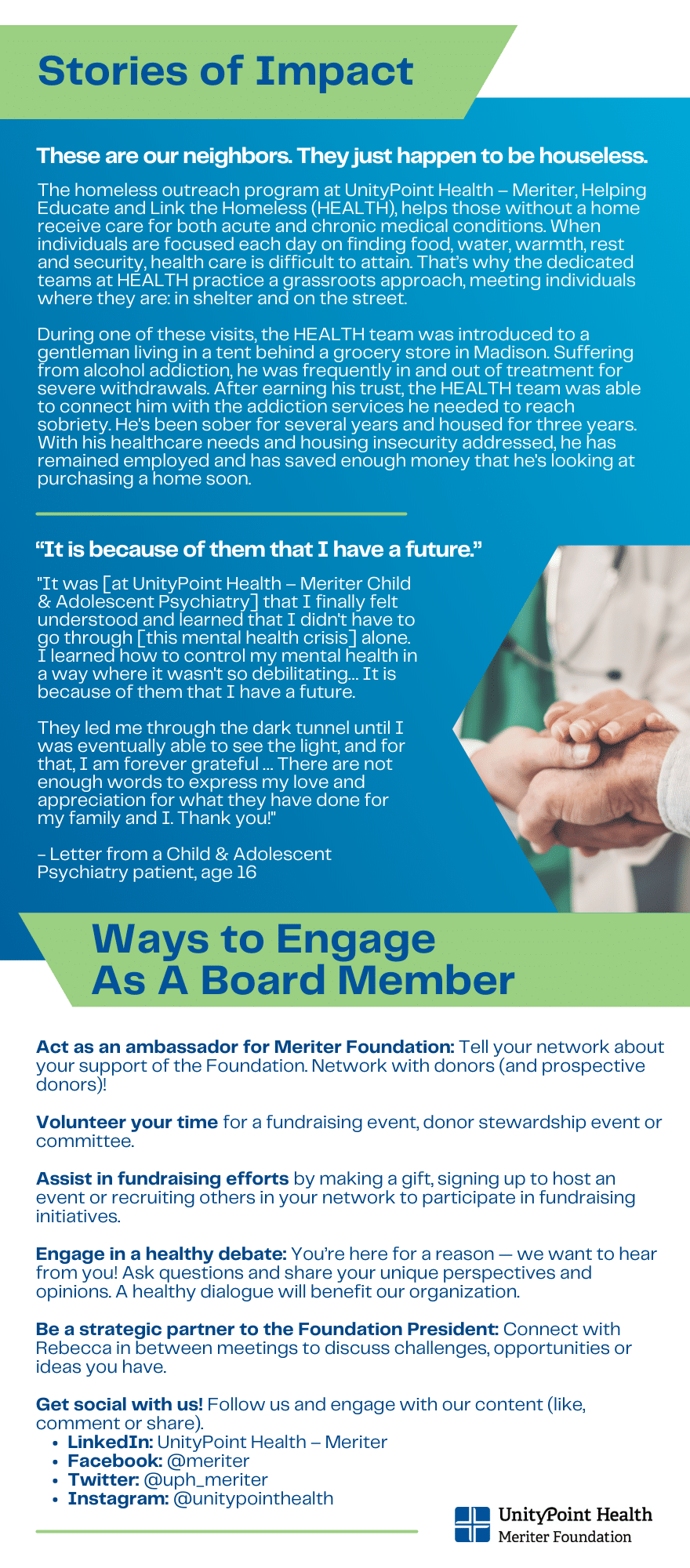 Board Member Activation Rack Card
N

Two-sided rack card that will be used as a resource to new and existing board members

N

Provides a high-level snapshot of Meriter Foundation's Vision, Mission, Brand Promise, Positioning Statement, Key Differentiators, and more
Your generous support will help to connect Meriter's patients and families with the care they need, fund community health programs and initiatives, support dedicated healthcare workers, and provide resources for equipment, research, and education. Learn more here.